Focus
Today's golf course superintendent must be a scientist, an economist, a business manager, a personnel manager and more. The challenge of the position requires a strong professional organization.

Two of these organizations are:
Golf Course Superintendents Association of America (GCSAA), which serves all superintendents internationally, and
Cactus & Pine Golf Course Superintendents Association which serves members in Arizona.
Cactus and Pine members are part of a combined effort with allied associations to address and lead the way on issues such as environmental concerns which include water conservation, ground water protection, pesticide use and safety and wet land protection.
Major Goals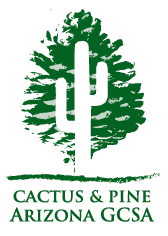 Serve All Members and Increase Participation Statewide
Emphasize Education and Increase Quality of Topics and Speakers
Promote Golf in Public and Political Sectors
Enhance Professional Status and Image of Superintendent and Related Industries
Coordinate a National to Local Focus and Cooperation
Spearhead Collaborative Support for Research to Benefit the Arizona Golf Industry
---
***TIMELY TOPICS***
NEW in 2015: GCSAA's 'Thank a Golf Course Superintendent' Campaign
2015 Cactus and Pine Calender of Events Released
AIR QUALITY & OVERSEEDING
*UPDATE* ON STATUS OF H.R. 5078, the "Waters of the United States Regulatory Overreach Protection Act"
To support the vote, starting Friday, we sent an H.R. 5078 letter from our CEO Rhett Evans to the full House, 28 chapters sent individual letters to the House, and almost 300 individuals sent 400+ letters to the House through our action alert. THANK YOU for having your voice heard on this vote – it made a difference!
In conjunction with the vote Tuesday, GCSAA's Communications Team pushed out a press release letting the world know we joined the Waters Advocacy Coalition. It gained some traction. Received mention in The Hill, which is a must read on Capitol Hill. Mention was also in the Energy & Environment Overnight section of The Hill. We were mentioned on Fox & Friends yesterday morning as well as the Herman Cain show in Nashville. http://thehill.com/policy/energy-environment/217112-epa-waters-rule-threatens-the-golf-course-industry-says

Action now turns to the Senate. I'll be on a WAC call this afternoon to talk Senate strategy. This will be a much harder lift, plus President Obama issued a veto threat earlier this week on this bill. We'll let you know how you can be helpful moving forward to get this to the finish line."
Monday, 9/8: From Andy Huber, Wickenburg Ranch, President of Cactus and Pine GCSA

On behalf of the Cactus & Pine Golf Course Superintendents Association, we are writing to urge your support for H.R. 5078, the "Waters of the United States Regulatory Overreach Protection Act".

The golf industry has a major impact in Arizona's economy by supporting several different industry sectors. The Cactus & Pine GCSA represents 550 members and 352 golf courses within the state. READ MORE...
---